About Malelani Café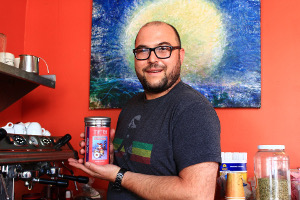 Chef/Owner George Drakopoulos
George, who is of Greek descent, was born in Johannesburg, South Africa, and emigrated to the U.S. with his family in 1998. His mother Cecilia is a nurse, and his father Dimitri was a bookie in South Africa, taking bets on horses. (Betting is legal in South Africa, and bookies are licensed).
Because his father couldn't continue his profession in this country, he started working for George's godfather, who owns a restaurant on the boardwalk in Atlantic City. Dimitri eventually opened his own restaurant, where George got a lot of practical business experience at a young age.
After he graduated from Stockton with a degree in business and hospitality, George went back to South Africa for five months and worked in a couple of cafés. "When I came back, I had the idea to open a café. I bought an espresso machine and it sat on my table for about two and a half years before I found the first location in Ventnor."